December 2022 Inclusion & Wellbeing Newsletter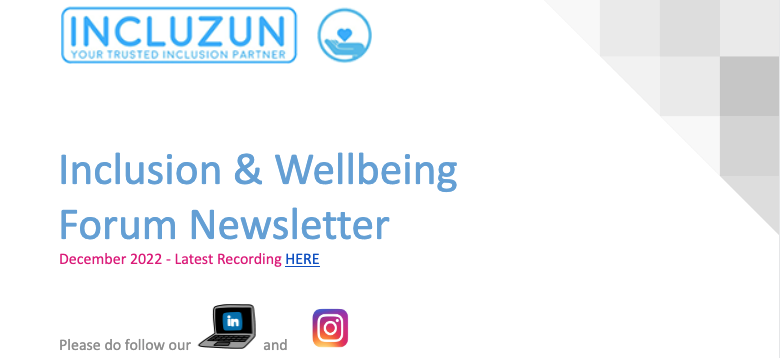 December 2022 Inclusion & Wellbeing Newsletter
Published on: 01 Dec 2022
Inclusion & Wellbeing Forum Newsletter
December 2022 - Latest Recording HERE
---
December 2: UAE National Day
National Day is celebrated every year on December 2 in the UAE, to mark the day in 1971 during which founder Sheikh Zayed united six of the seven emirates that make up the United Arab Emirates.
This Month's Winners for Wellbeing Wednesday
FITHUB is the UAE's premier luxurious gym where women can enjoy amazing facilities in a quiet space with a huge range of equipment and facilities. Once you've finished working out your body and boosting those endorphins you can relax in the peaceful spa and soak up the calm while enjoying delicious Arabic sweets and treats!
Every week on Wellbeing Wednesday we will give away a one week pass to this amazing gym along with a voucher for any treatment at the opulent spa.
To get in with YOUR chance to win REGISTER HERE
The UAE students opting for higher education and wishing to pursue their dreams must come out of their comfort zones to achieve their goals and grow in their careers.
This was stated by UAE students Sara Naeem Fikri and Gust? Gur?inait? who have been awarded the Rhodes Scholarship to study higher education at the University of Oxford. The duo were selected after more than 60 students applied for Rhodes Scholarship in June 2022. The two will begin their academic year at the University of Oxford in October 2023.
Dubai's Ta'aleem launched IPO
Taaleem Holdings plans to raise Dh750 million ($204.2m) from its initial public offering on the Dubai Financial Market next month to fund its growth plans.
The company, which has 27 educational institutions, expects to list on the bourse "on or around" November 29 and will use the proceeds to expand its premium K-12 schools network, it said in its document announcing its intention to float (ITF) on Monday to fund its growth plans, as well as open four new premium British schools in the next three years.
Incluzun Present at the Inclusive Employment Conference 2022
This year at the AccessAbilities Expo, Incluzun hosted a panel discussion with some of the regions leading Entrepreneurs who also happen to be people of determination. 
Led by ImInclusive, MENA's leading inclusive employment platform, we convened to discuss and overcome challenges towards building a truly inclusive workforce, aligned to UAE national vision and strategy, directly impacting United Nations Sustainable Development Goals 8 and 10. 
Check out the highlights HERE
International Day for Persons with Disabilities 3rd December
Disability inclusion is an essential condition to upholding human rights, sustainable development, and peace and security. It is also central to the promise of the 2030 Agenda for Sustainable Development to leave no one behind. The commitment to realizing the rights of persons with disabilities is not only a matter of justice; it is an investment in a common future.
Events organized by the UN on 3 December 2021:
UAE pupils taught blockchain, crypto and tech skills to prepare them for future job market
A raft of UAE schools have brought in lessons in blockchain, cryptocurrencies and other emerging tech fields to prepare them for the job market of the future.
High on the the agenda will be making children fully aware of the possibilities ? and potential pitfalls ? of the metaverse.
The metaverse is envisaged as a new online world where someone with a 3D avatar, a representation of yourself, uses a virtual reality headset to go to concerts, work, socialise and access a range of services. Read all about it HERE.
International UNICEF Day 11th December
UNICEF Day 2020: It is observed on 11 December every year. The organization protects the rights of every child everywhere and works in the toughest places in the world to reach the most disadvantaged children and adolescents. In over 190 countries and territories, UNICEF works to protect the rights of every child.
UNICEF is one of the world's largest providers of vaccines and supports the health of children, nutrition, safe water and sanitation, quality education and skill-building, HIV prevention and treatment for mothers and babies. Also, the organization protects children and adolescents from violence and exploitation.
Find out more HERE
              10 UAE schools among top 100 in the world
Brighton College Abu Dhabi

The British School Al Khubairat

Cranleigh Abu Dhabi

Dubai College

Jumeirah College

Jumeirah English Speaking School

Nord Anglia International School Dubai

NLCS Dubai

Repton School Dubai

Swiss Scientific International School in Dubai
MYMAXIMUS provide industry opportunities for people of determination in the Emirates
Our Trusted Partner MyMaximus have launched their new shops- created by, stocked and delivered by their very own Students of Determination. These are an amazing way to showcase the wonderful products and art that these students are producing in a sustainable and productive way. Visit My Maximus to see them in real life!
International Human Rights Day 10th December
Human Rights Day 2021: It is celebrated on 10 December annually. On this day, the United Nations General Assembly adopted the Universal Declaration of Human Rights (UDHR) in 1948. It is a milestone document that states the inalienable rights that everyone is entitled to as a human being. 
The day empowers and acknowledges the advocates and defenders of human rights around the world. Let us tell you that Human Rights are non-discriminatory that is all human beings are entitled to people and cannot be excluded from them. And the dilemma is that all human beings are entitled to human rights but do not experience them equally throughout the world.
Five Indian candidates selected as Rhodes Scholars for 2023
UAE School Leaders Group supporting progressive best practice
An amazing whatsapp group is supporting school leaders across the Emirates. Founded by Mr. Mohsin Ibrahim a broadly experienced Educational Leader who is passionate about  improving practice. 
He states "Educational leadership should focus on the individual learning, psychological, social, and emotional needs of each and every student. School learning communities must foster high expectations for all students, but they also must incorporate an ethic of care that recognizes that not all students are the same and values those differences." 
The group has grown over the past years and now hosts over 200 hundred principals, vice principals, regulatory representatives as well as a multitude of specialists. The group acts as a constant source of news, updates in research and a community where any question is answered within a few hours. 
Speaking about the impact of the group, Dolly Goriawala notes:
"There is not a selfish bone in the body of this group. People share information before it is even requested. It's not all about education or recruitment, the group sometimes dips into the field of compassion. It's a 200-strong group with one fiercely beating heart".
Support for mothers of children with individual needs
UAE based team Karen Kehdy and Mirna Balmonac have come together to support mothers who have children with individual needs. They are working tirelessly across the community to connect and support parents on their journey. They help to connect mothers who have children with similar needs, connect to centres and therapists who have been proven to be good practitioners and answer the many many questions that arise when dealing with complex needs.
Incluzun Present at the Accessabilities Expo with our Trusted Partner Topland